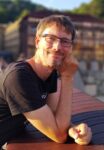 Markus Neteler is co-founder of mundialis, a geospatial analysis and remote sensing company in Bonn, Germany. He has been developing open source GIS software for more than 25 years.

My activities at mundialis.de
As co-founder of mundialis, I see our company as a pioneer in the use and development of open source software for geographic information systems (GIS) and remote sensing. Inspired by the European Copernicus program, mundialis was founded in 2015 with the goal of making information from satellite data accessible. We use free geodata to create customized and future-proof map and data products and web services. Our expertise in open source development, combined with scientific know-how and agile project management, enables us to develop innovative methods using artificial intelligence and machine learning.
We believe in the quality and flexibility of open source solutions. Our work with GRASS GIS and the cloud-based geoprocessing platform actinia, which we continuously enhance and make available as free software, reflects this commitment. mundialis is not only a growing company with a dynamic team of experts, but also part of an active, collaborative community. We place great emphasis on environmental awareness and sustainability and strive to make a positive contribution to society and the environment through our work.

Publications and teaching
During my academic career I have co-authored numerous scientific papers, as well as some books and book chapters. Much of this material is available online.

Open source GIS development
For the past 25 years I have been deeply involved in the Open Source GIS community. I have been the release manager of GRASS GIS since 1997 and a founding member of several related associations. In OSGeo I was a member of the OSGeo board of directors for several years (2006-2011).

Open Source community contributions

Recent blog posts